The 2021 Subaru Love Promise Community Commitment Award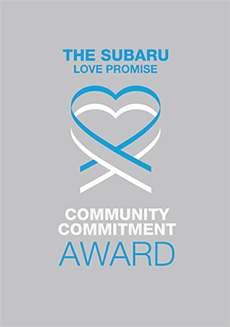 We've been nationally recognized for our dedication to our community and the Subaru Love Promise.
We're honored to receive the 2021 Subaru Love Promise Community Commitment Award. This award nationally recognizes Subaru retailers who are making the world a better place while demonstrating an outstanding commitment to supporting passions and causes in local communities. These efforts are focused in important areas such as the environment, community, health, education, and pets.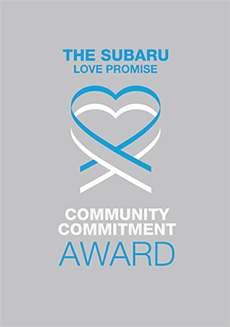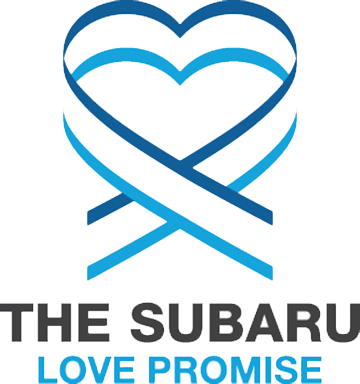 What is the Subaru Love Promise?
Subaru and our retailers believe in making the world a better place and the Subaru Love Promise is our vision of respecting all people. This is our commitment to show love and respect to our customers and to work to make a positive impact in the world.
How is Patrick Subaru dedicated locally to the Love Promise?
Patrick Motors Love Promise can be seen in various partnerships with local charities and non-profits. We're grateful for the opportunity, not only to be a part of our community, but to serve it as well.
Worcester Animal Rescue League, Second Chance Animal Services
Tantasqua Education Foundation
Veterans Inc, Worcester County Food Bank, Girls, Inc., Charlton Food Pantry
Jewish Healthcare Center, Why Me & Sherry's House, UMass Memorial Medical Center
Love Promise Stories from Patrick Subaru
Subaru and Patrick Subaru believe in making a positive impact on the communities in which we live and work. We uphold that belief through our Love Promise Community Commitment. Every month, we select inspiring stories from customers and partners from around our area who strive to support our collective commitment and feature them here
300 Mile Run to Fight Duchenne Muscular Dystrophy - Michelle B
300 miles. 7 days. One fight to find a cure. Jim Raffone and his team set off from our front steps as they make their way to New Jersey from our location in Shrewsbury. They will be stopping at various Subaru retailers along their journey for a purpose: to raise awareness and funding research to find a cure for Duchenne Muscular Dystrophy. Duchenne Muscular Dystrophy is the most common fatal genetic disorder to affect children around the world. Duchenne is a devastating muscle disease in children. Historically, most boys who have it do not survive beyond their mid-20s. Those who do will be wheelchair-bound by age 12 and experience social isolation. The simplest of tasks become difficult and in the later stages, heart and breathing muscles begin to fail. Nearly to 20,000 boys are living with the disease in the United States alone, and over 300,000 worldwide. The disorder knows no cultural, economic or social boundaries. And despite being the most common, there is no cure. Jim's son, Jamsey, is also fighting this disease. Our General Manager Todd presented the team with a donation on behalf of Patrick Subaru to kick off this amazing feat, and our sales staff cheered and set off confetti to commemorate the beginning of their 300 mile run. After all, some cheers and positivity go a long way!
---
Planting Trees with Girls, Inc. of Worcester - Patrick S
Patrick Subaru was honored to work with the girls of Girls, Inc. of Worcester to plant a tree for every car sold during Earth Day weekend. The trees, crape myrtles, were purchased through the Arbor Day Foundation, which is a non-profit organization that plants a tree in our national forests for every tree purchased. Crape myrtles are excellent for bee pollination, and produce beautiful purple flowers that the girls will get to enjoy year after year. The trees were planted along the edges of the organization's property in Worcester, as well as at their camp location nearby. Mike Berkowicz (Patrick Subaru Product Specialist) volunteered to help on his day off. "I'm proud to represent both the Subaru brand and the Patrick family. I'm excited for what this means for our community, and I'm looking forward to continuing our involvement with organizations like Girls, Inc. of Worcester." One of the girls who helped us dig and plant these trees said after all was done, "I can watch this tree I planted grow as I get old." We can't wait to watch both the trees and these amazing girls grow through the years. Thank you very much to the staff and volunteers of Girls, Inc. of Worcester, as well as the customers of Patrick Subaru's Earth Day sales event, for making this amazing moment possible.
---
"Fill the Forester" Food Donation - Patrick S
The staff and customers of Patrick Subaru came together this March of 2021 in the "Fill the Forester" event, giving food donations to our neighbors at the Charlton Chip-In Food Pantry. In the spring, a lot of pantries see a shortage of food donations due to people being overly generous during the holiday season, and donating consistently throughout the year. Together, we were able to Fill a Forester and make a difference in our community.
---
Tantasqua Blanket Donation - Patrick S
Patrick Subaru was thrilled to partner with the Tantasqua Student Council in their generous and heartfelt blanket donation last week. The students hand-tied each blanket and donated them to both Why Me & Sherry's House (a resident and services organization for families battling childhood cancer) and Brigham and Women's Hospital in Boston. Patrick Subaru was honored to have funded the donation and love watching our younger generations exhibit compassion, selflessness, and community involvement. Thank you to the Tantasqua Student Council for leading by example! Pictured: wife and daughter of Patrick Subaru General Manager Todd Stalker leading the donation initiative and dropping off blankets at Why Me & Sherry's House.
---
Patrick Subaru Cares for Local Health Care Worker - Michelle B
UMass Memorial Medical Center has been through an awful lot in the past year. Every day, their staff members clock in to work and stand on the front lines of a global pandemic, and that dedication does not go unnoticed. On February 17th, Random Acts of Kindness Day, Patrick Subaru wanted to give them a small reminder of how awesome and appreciated our local medical staff are. Our team hand-delivered (with masks!) 250 roses to the emergency room staff as a thank you for making the lives of so many people better. Thank you to all of the medical workers who have been through it all in the past year. Patrick Subaru appreciates you!
---
Commitment To Community - emily a
I've recently had the pleasure of visiting the showroom of Patrick Subaru in Shrewsbury. In addition to the welcoming response when we entered, I couldn't help but notice the banners and photos recognizing community partners. I immediately had a feeling of familiarity and connection even though we had never visited before. The banners highlighting local non for profits shows a recognition of the importance of giving back and allowed for a quick connection to those around us. Furthermore, their Pet Stop station underscores the importance of recognizing that pets are family. What makes up "family" can mean different things to different people. Patrick Subaru's attention to detail with their partnerships with local small businesses in addition to their fundraising efforts highlights their commitment to family, which in turn makes up our community. We look forward to a long working relationship with the Patrick Subaru. Thank you for all you do.
---
Patrick Subaru goes above and beyond - Lindsay D
We are so thankful for Patrick Subaru's commitment to the community and of course the pets within it. Their support and recognition of our work is helping us to change the lives of so many pets. We are grateful to be partnered with them this year and look forward to how many more pets we will be able to help because of them and their commitment. They have been a pleasure to work with and their enthusiasm in helping the community is simply amazing. They take the time to understand the organization and its needs and offer to help with what is needed most. Keep up the great work Patrick Subaru and Subaru as a whole. What you are doing is make the community better for all!! Thank You
---
Thank you from Why Me & Sherry's House - Robyn F
We are honored to have been a 2019 "Share the Love" recipient and thank Patrick Subaru for their continued support of Why Me & Sherry's House. This August marks our 35th anniversary of providing support services to children with cancer and their families. This year has been challenging as our nation copes with the Covid pandemic; this is no exception at Why Me. We have adapted and overcome adversities in way we never thought possible pre-pandemic. We have delivered pantry and essential items to families, provided bags of "fun" to help bring a few extra smiles, helped pay bills, and taken our support groups virtual - because childhood cancer is isolating enough without a quarantined pandemic. These are just a few examples of how we have continued to help lighten the load of our families in crisis. We continue to persevere through this new adversity because of the assistance and support from our friends at Patrick Subaru. We applaud your efforts with strengthening the local community.
---
Animal Shelter Inc. of Sterling THANKS YOU! - LEIGH G
From all your friends at the shelter with two legs and four we can't begin to thank Patrick Subaru enough for their kind and generous donation in selecting our animal shelter to be a recipient of the 2018 Subaru Share the Love Event. Our shelter runs 100% on surrender/adoption and donations, we are NOT funded by the city, state, government so every penny really counts. We somehow manage to maintain a 100% compliance rate on spay/neuter PRIOR to adoption and runs several dozen programs for both pets AND people. Thanks to the donation from Patrick, we will be able to make some much needed physical improvements to the shelter as well as help more animals. Thank you so very much.....your program is helping so many non profits...wish more companies followed your mission to help those who have no voice. Warm wet puppy noses to your entire team from ours... Leigh Grady, Executive Director
---
Why Me Sherry's House - Rebecca K
Thank you to Patrick Subaru for supporting Why Me & Sherry's House during the 2018 Share the Love Event. Why Me & Sherry's House received a $40,738 donation which will allow us to continue to providing support services to over 650 families who have a child that has been diagnosed with pediatric cancer. Through family fun events, group outings, logistical and financial support, hospital visits, as well as lodging at Sherry's House our eight bedroom residence in Worcester - families receive the support they need to address the specific ways their families' lives have been disrupted. Employees of Patrick Subaru have visited Sherry's House multiple times to volunteer their time however needed. They generously donated a flat screen television for our Teen game room which has already been put to good use. Thank you to Patrick Subaru and their staff, we could not do what we do without you!
---
Patrick Subaru Shares the Love with those in need - Sally H
Worcester County Food Bank is extremely grateful to have been chosen by Patrick Subaru as one of the recipients of donations from the recent "Share the Love" event. Many thanks to the management and staff at Patrick Subaru. Thanks as well to the customers who purchased and leased cars during the event who chose us to receive a donation from Subaru of America.This gift will have tremendous impact as the Food Bank nears the end of the first year of our three-year strategic plan, where we strive to significantly increase the number of people we help and the number of meals available to those in need in Worcester County.Thanks to Subaru of America, Patrick Subaru and their customers for Sharing the Love with families like Dan, Stephanie and their daughter Ashley. Stephanie cut her work hours to care for Ashley, who is being treated for a serious illness. With the loss of a significant portion of her income, she and Dan worry about losing their home. They are thankful for the fresh produce, frozen meat and shelf stable food that is available to them at their local food pantry during this stressful time.The Patrick Subaru family is making a difference in the lives of many families and individuals in Worcester County!
---
Patrick Subaru - Allie T
January 2018: Patrick Subaru in Shrewsbury, MA donates a 2000 Subaru Forester to the Worcester Animal Rescue League. Founded initially in 1912 by a group of women determined to save overworked and abused farm horses, WARL's services have expanded and changed to protect, care, and love our cats and dogs throughout Central Massachusetts. WARL is a private 501(c)3 non-profit animal shelter, dependent on the kindness of people to be our partners in caring for the animals. WARL uses the Forester to pick up donations, supplies, and medication for the shelter pets. The vehicle is also used to transport sick animals who need veterinary care to animal hospitals. We are grateful for the support that Patrick Subaru continues to provide to WARL. Their donations make an enormous impact on the lives of the shelter pets and our community! Thank you!
---
Patrick Subaru Continues to Support Veterans - Erin D
Patrick Subaru of Shrewsbury recently presented Veterans Inc. with $ 35,214 raised during the dealership's "Share the Love" event. This is the third year in a row that Patrick Subaru's "Share The Love" event has supported Veterans Inc., New England's leading provider of support services to veterans and their families. "We are honored to have once again been chosen as one of Patrick Subaru's charities of choice for their 'Share the Love' event", said Vincent J. Perrone, President & CEO of Veterans Inc., "The funds raised from the event will go a long way in ensuring that we are able to provide for the veterans and veteran families who come to us looking for help. We are truly grateful to the Patrick family and their customers for supporting the brave men and women who have served our country." Veterans Inc., a 501(c)(3) nonprofit incorporated in 1990, has helped more than 65,000 veterans in need and today operates offices and programs in all six New England states. The support services provided include housing programs, counseling, employment & training, family programs, benefits counseling and advocacy, transportation, temporary financial assistance, health and wellness, food services, and women & childcare services.
---
Patrick Subaru Improves the Lives of the Elderly - Pam C
As our Centennial year draws to a close, we would like to take a moment to once again thank Patrick Subaru for all that they have done for the Jewish Healthcare Center over the years. Committed sponsors like Patrick Subaru have enabled the Jewish Healthcare Center to evolve from our humble beginnings on Coral Street to the multi-service elder care provider that we are today. This year alone, Patrick Motors helped us raise over $22,000 in their role as the Presenting Sponsor of the 13th Annual Home Run 5K Road Race. Thank you again to Patrick Subaru for their continuing support for our state-of-the-art senior care.
---
Veterans Inc. Says Thanks! - Jason P
Through the kind and generous consideration of Patrick Subaru customers, $21,899.94 was raised towards Veterans Inc.'s work helping veterans in need and their families. For the past 25 years, Veterans Inc. has been there for over 65,000 veterans and their families in their time of need. Another 5,000 veterans and their families will seek our help this year alone. The support that you provide will help our agency to not only provide the services we've always offered, but also to innovate to meet the changing needs of veterans in a complex world. From opening the first shelter facility specifically for homeless female veterans in the 1990s, to expanding homelessness prevention programming aimed at keeping veterans stably housed, Veterans Inc. has always strives toward the most cutting-edge service models in support of our heroes. This year, Veterans Inc. will open the first-of-its-kind licenses, non-profit substance abuse treatment center focused on veterans' recovery, including inpatient stabilization, day treatment, and outpatient counseling. Just as our soldiers are ever-vigilant on the battlefield, never resting on their laurels, we will not rest either. We are committed to continuing to innovate, to be there for our veterans, no matter where they are or what the challenge is. Your support is what will turn that innovation into positive change for our veterans.
---
Patrick Subaru helps homeless pets! - Erin S
With over 1,000 dogs and cats finding forever homes each year through our adoption program, the Buddy Dog Humane Society of Sudbury, MA has touched many lives, both human and animal. To celebrate our years of service as a no-kill animal shelter, we wanted to have a festival for our community of animal lovers and to show our support for animal rescuers and organizations. But how would we afford all the expenses it brings? After hearing about our idea of a "Woofstock Festival", our friends at Patrick Subaru stepped up and generously sponsored our event! With Patrick's financial help, over 2,000 people and their animals enjoyed a day of canine demonstrations, education, and pet adoption promotion. The funds raised at our event went directly to the shelter so we can continue our mission of rescuing homeless dogs and cats. We are forever grateful for our relationship with Patrick Subaru as they are helping The Buddy Dog Humane Society to help homeless pets.
---